it has been really really cold these past few days...
i easily feel cold so my nails had been purple most of the time this week.. :/
anyways..
my week has been really busy.. it was exam week which was ofcourse stressfull.. my brain had so many infos to squeez in that i had migraines right after my last exam.. my study mode doesn't end there though.. i was forced by my teacher to join the "battle of the brains" contest for the intramurals which would cover general information.. one word, "YUCK!".. no interest with this kind of geeky stuff! nuh duh! zero! butlog! 0_o
the day after my last exams (which is today) i really made most out of my free time.. i played "Cake Mania 2" and "Chuzzle Deluxe" and watched TV to
sawa
.. and as i was trying to find a good show to watch on TV, the latest Mc Donald's commercial aired which really caught my eye.. it was about this geeky guy and his first love.. it was reeeeeeally cute!! i even had teary eyes after watching it! haha! but yah.. i seriously did! hehe.. :D
so from now on, i'm gonna start eating in Mc Donald's as often as i could.. hoping to find my first love as well!! nyahahaha!! just kidding! i miss their food
na..
haven't eaten there for quite some time already.. tsk3.. :(
anyways..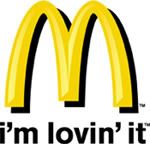 grabe ang effect pang-endorser!! haha!! :P